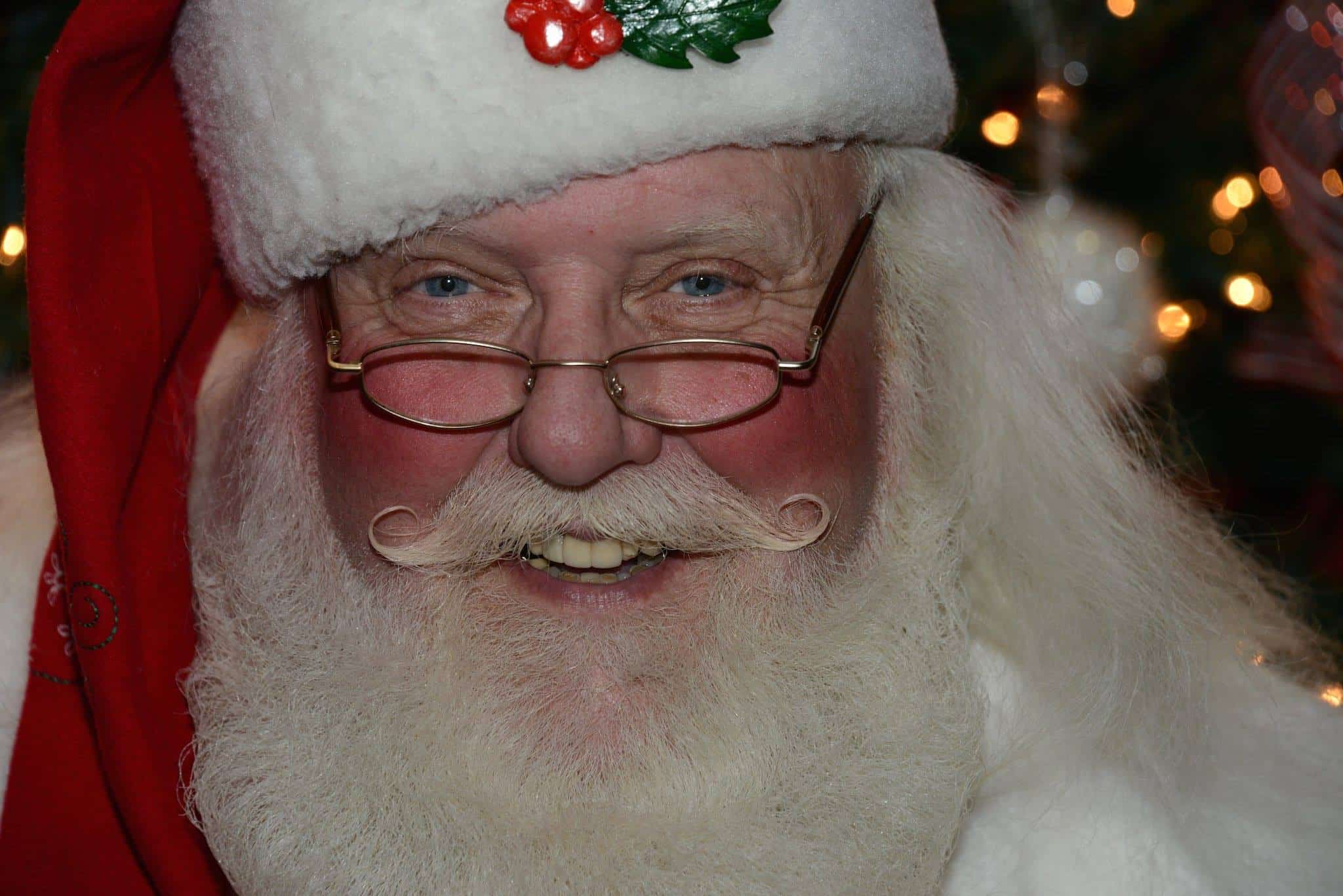 Santa !
---
2021 CALENDARS BELOW


October 2021 Calendar click here
November 2021 Calendar click here
December 2021 Calendar click here
Santa would like to thank everyone who booked with him for the 2020 Virtual Season! I am now booking home visits for the 2021 Season. Times of booked appearances generally are on the calendars if at all possible. If you have questions, please call Santa's sleigh phone at (401) 309-9540
VIRTUAL SANTA VISITS!
The video calls run between 20-30 minutes long depending on how many children there are. I send a short questionnaire about the children so I can put it in my "Santa's Book of Good Children". I also recite "The Night Before Christmas" and ask about the children's wish lists. When the visit is complete, I send a video via e-mail so it can become a keepsake of the visit. The visits are $150, and you can invite as many people you want to that can watch. They can be anywhere, and you just share the link I send to you with them. Obviously, I am there to interact with the children, but anyone can watch live if that is what you would like. My visit is me in my office at the North Pole and there is a lit fireplace with a twinkling tree and if you look out the windows you can see my toy shop and it is snowing outside. Also, you can see the Northern Lights in the sky. It is a wonderful backdrop. I do more than one visit a day and try to keep them 45 minutes to an hour between booking so I can freshen up and be ready for the next. So if there is a visit at 5 I can do another at 6 etc. The only days not open will state it on the calendar. I hope this answers all your questions but please feel free to contact me with any others.

E-mail: santa@santa-george.com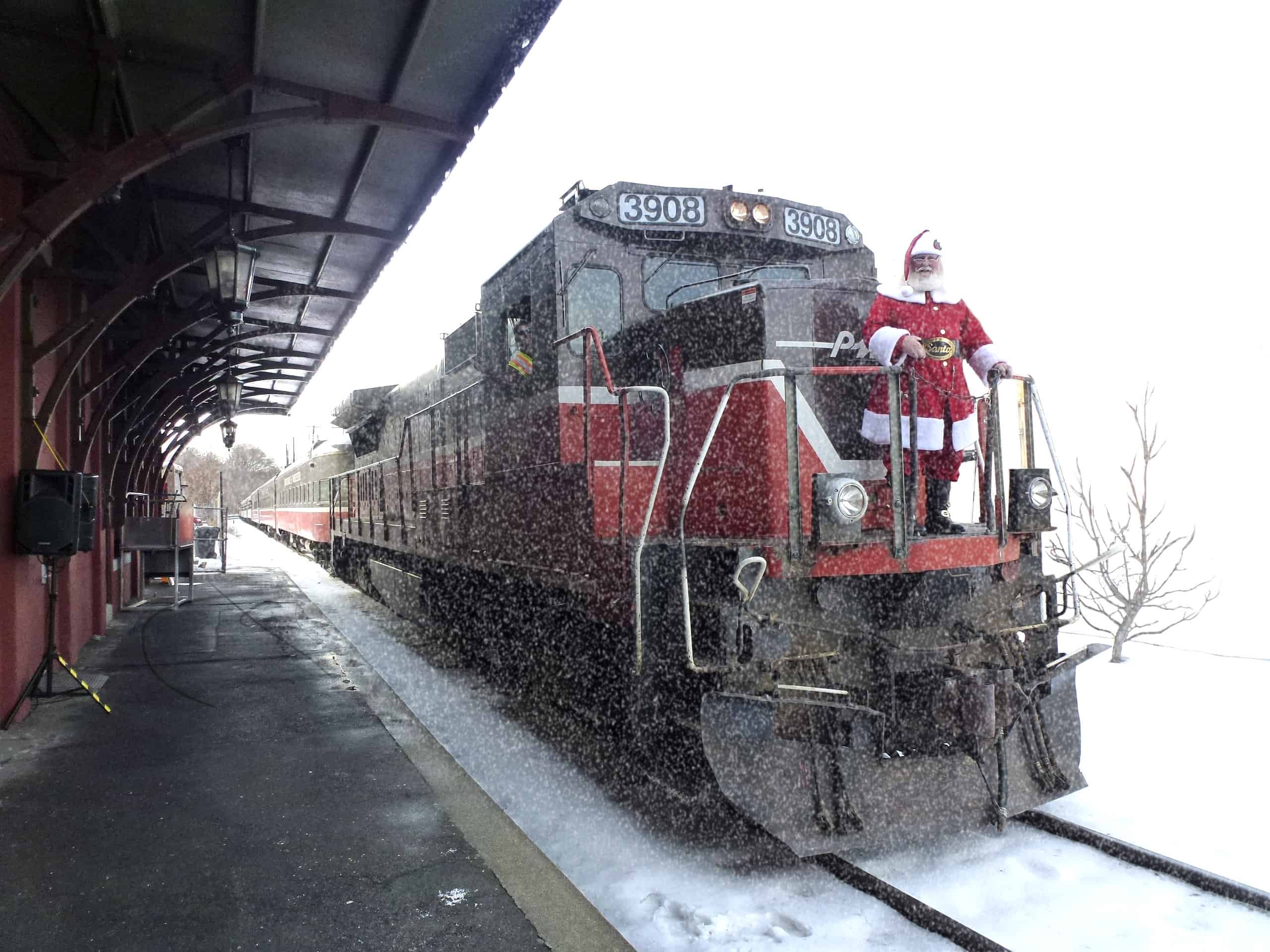 Official Santa on the Blackstone Valley Tourism Council "Polar Express"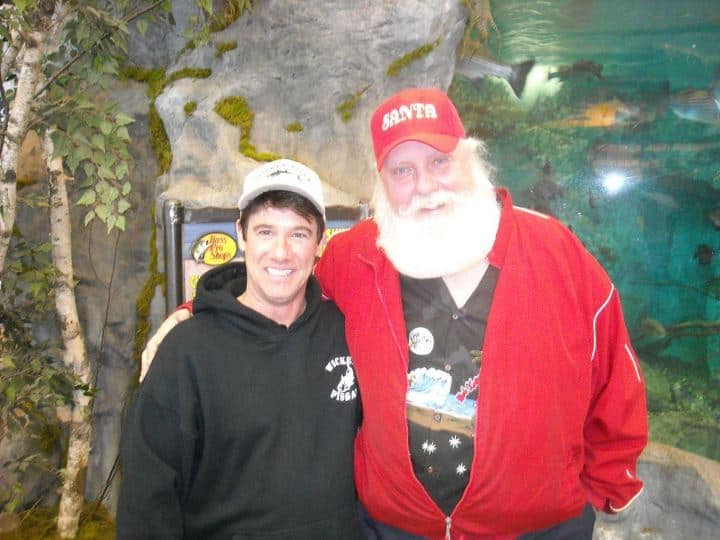 Santa with "Wicked Tuna" star Paul Hebert at Bass Pro Shops in Foborough, Massachusetts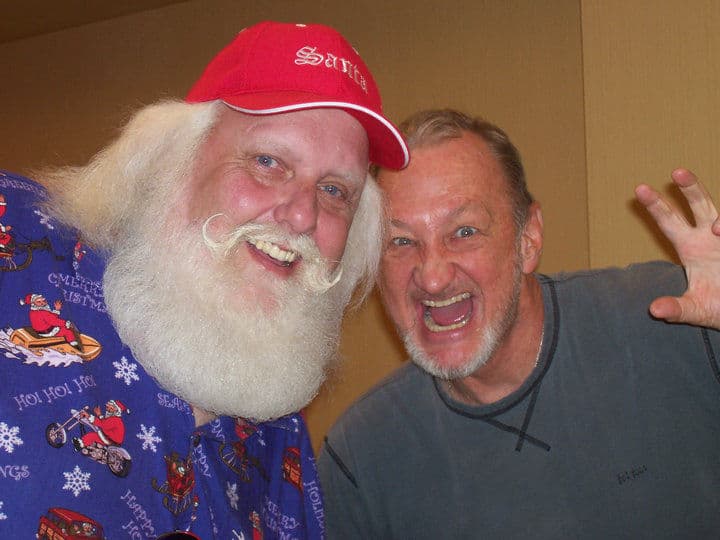 Santa with Robert Englund (Freddy Kreuger)
Santa with Kane Hodder (Jason Voorhees) in many Friday the 13th movies.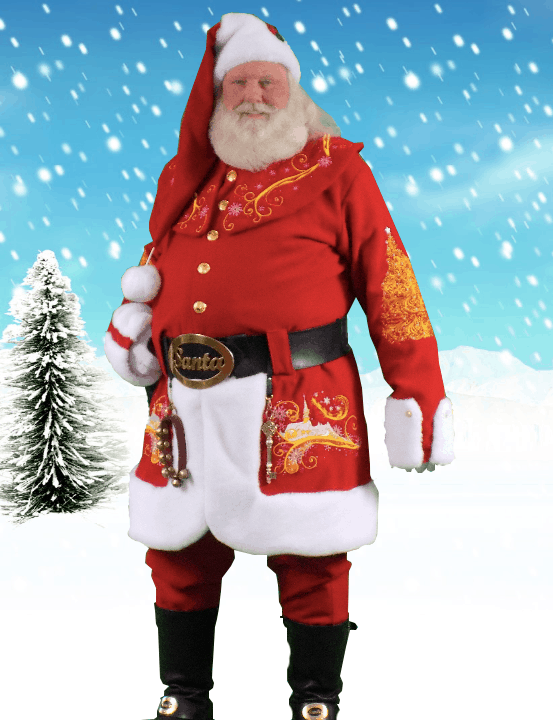 Santa's New Suit 2018
---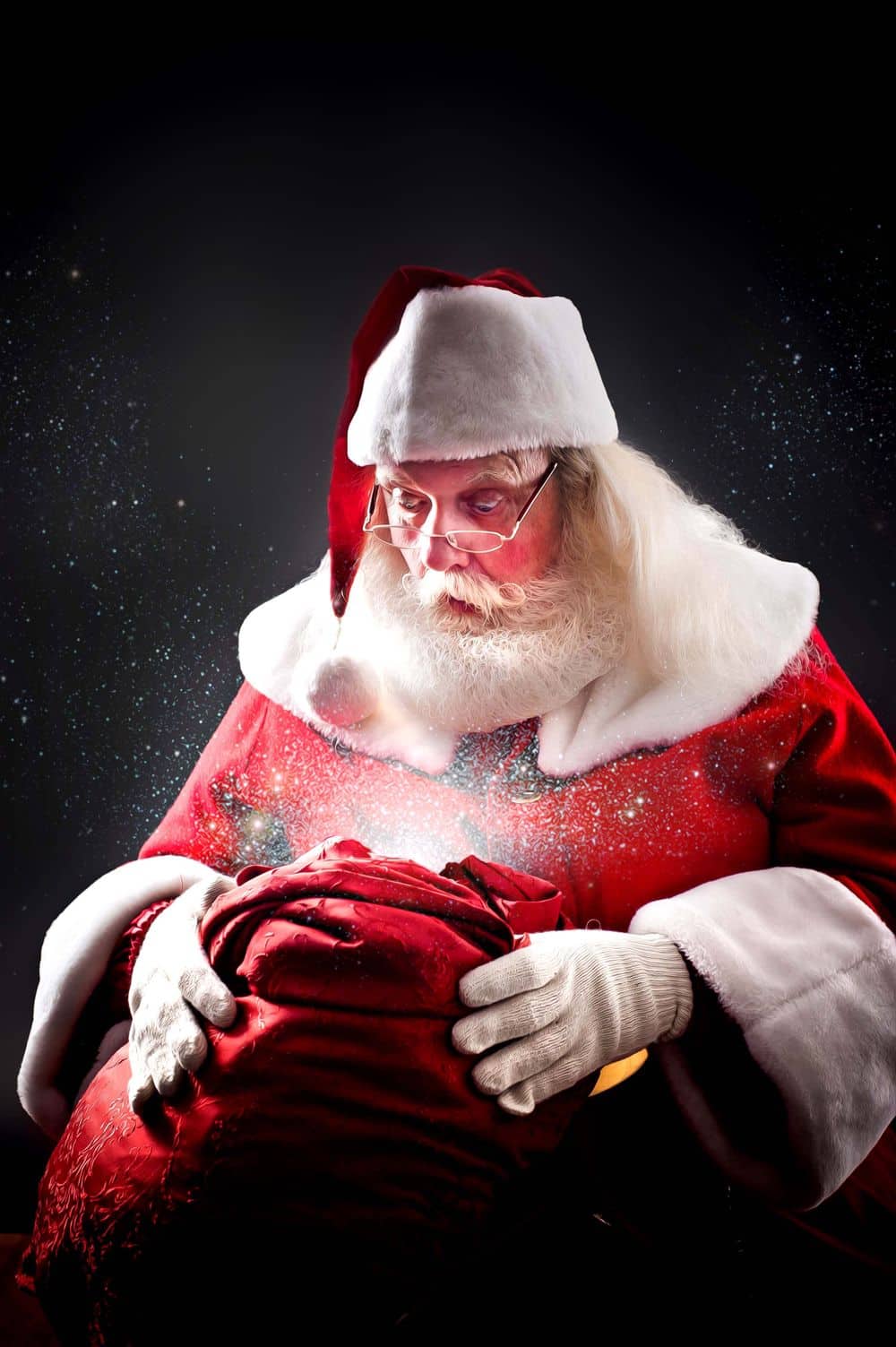 Santa's Magic Bag

E-mail: santa@santa-george.com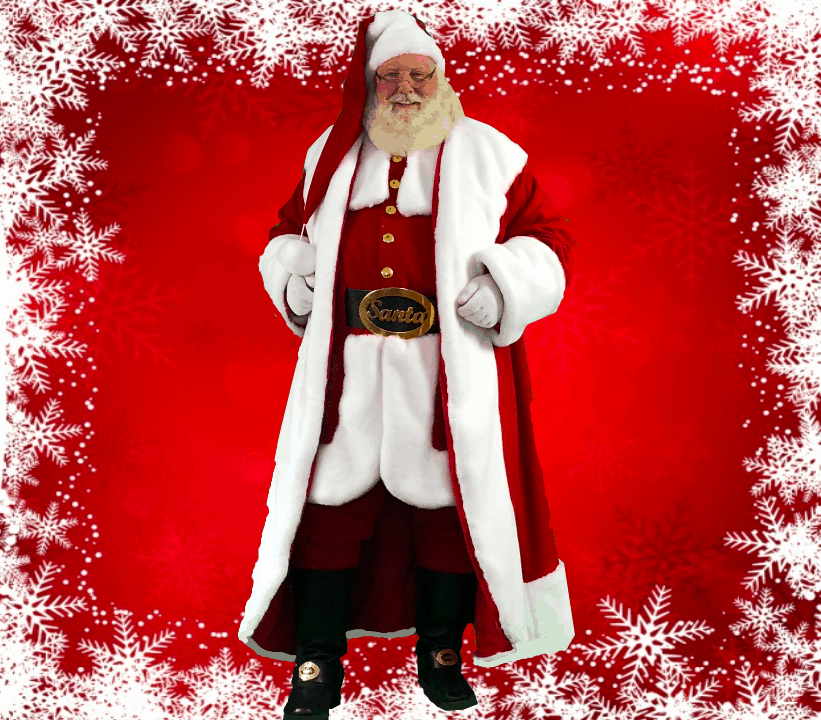 Santa George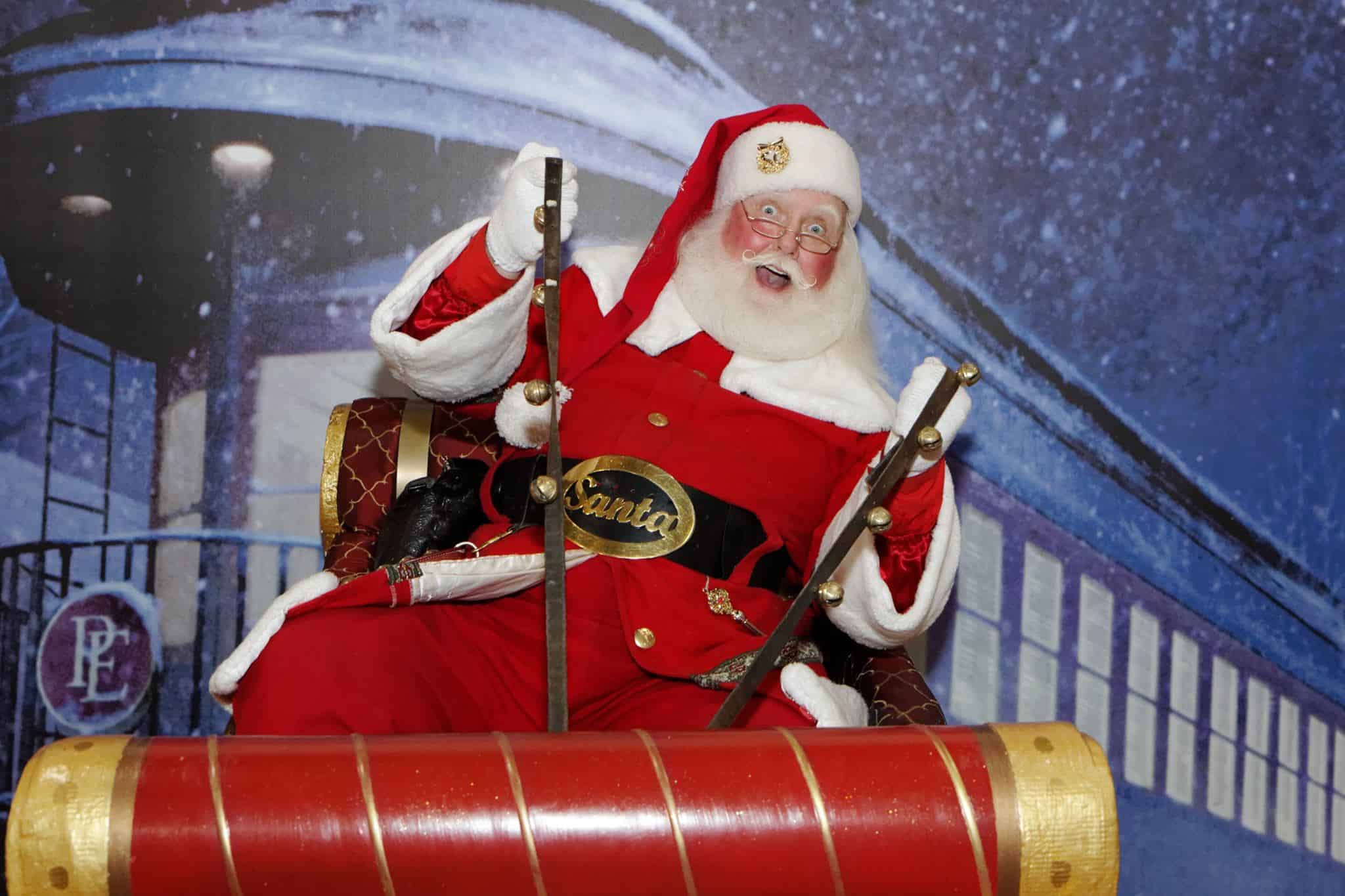 Santa on his sleigh !
Lend-A-Hand Therapeutic Riding Foundation Visit 2012
Santa in Cardi's Commercial 2010 (Click here)
Santa in Cardi's "Christmas in July" Promotion 2011 (Click Here)
Santa & NiRoPe on "the Rhode Show" (Click Here)
Bass Pro Shops Signing Santa Video
WB Mason Commercial 2017
2017 Cardi's Furniture Commercial
---
Polar Express Video
Blackstone Valley Tourism Council
www.tourblackstone.com
---
Click on mailbox icon or send e-mail to: santa@santa-george.com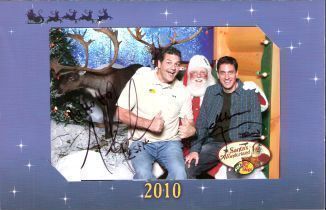 ESPN Mike & Mike in the Morning with Santa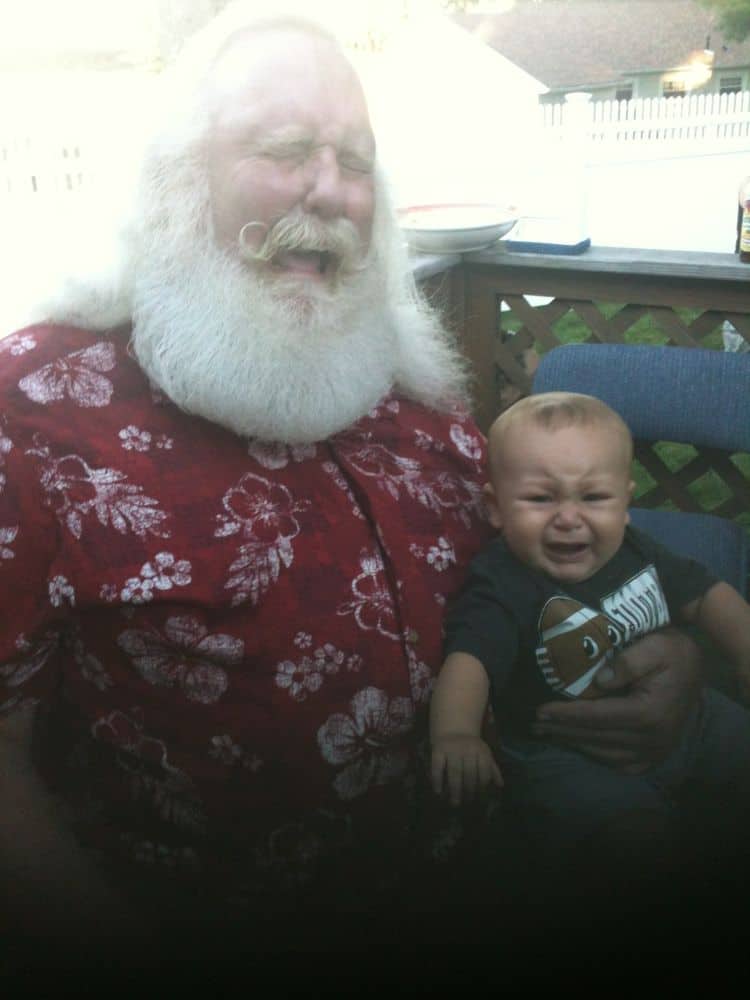 Two Cry Babies !
---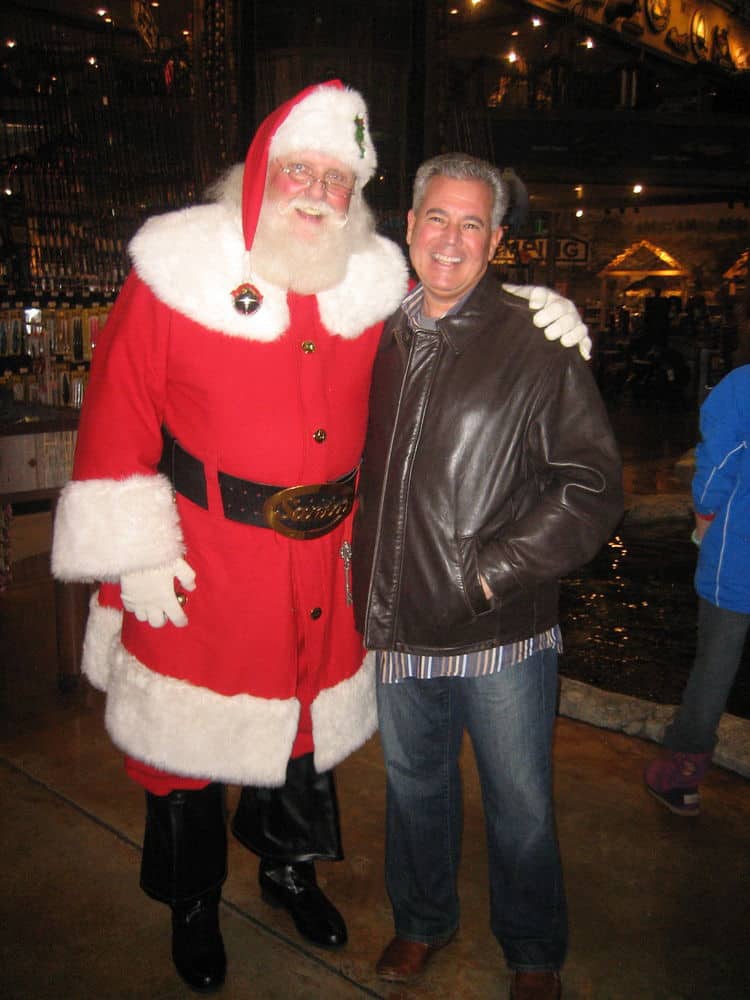 Santa & Steve Cascione, ABC6 Stormtracker Meteorologist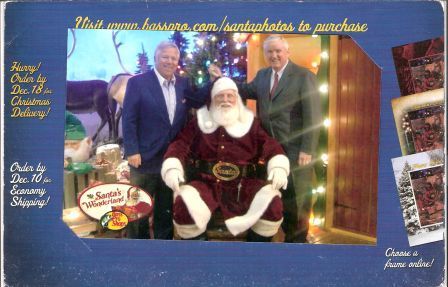 New England Patriot's Owner, Bob Kraft & Santa
---

Click on e-mail icon or send e-mail to: santa@santa-george.com


---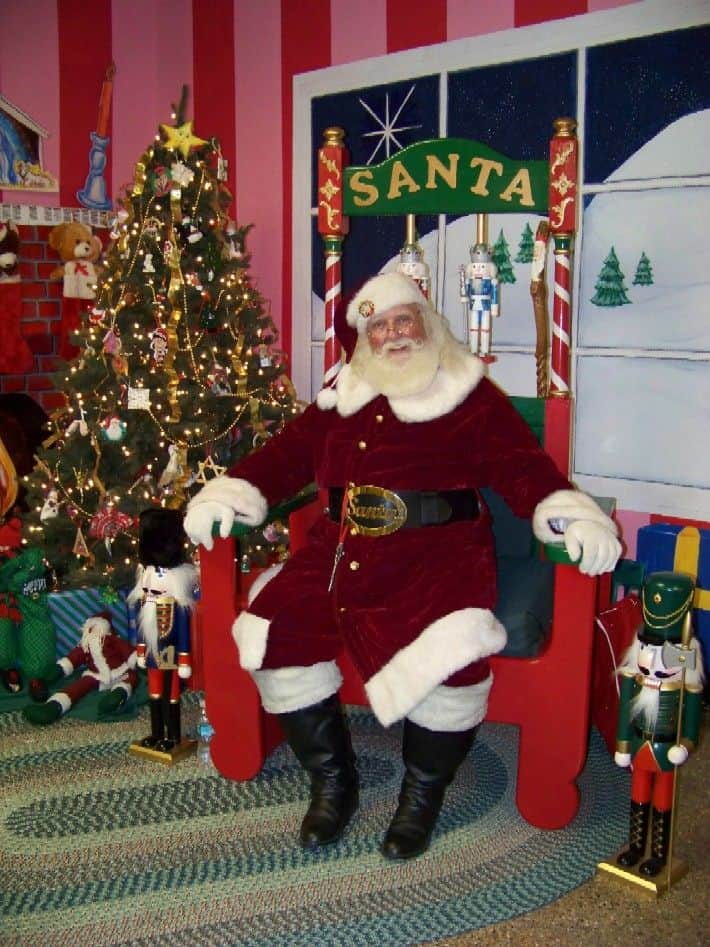 Santa & his Chair
---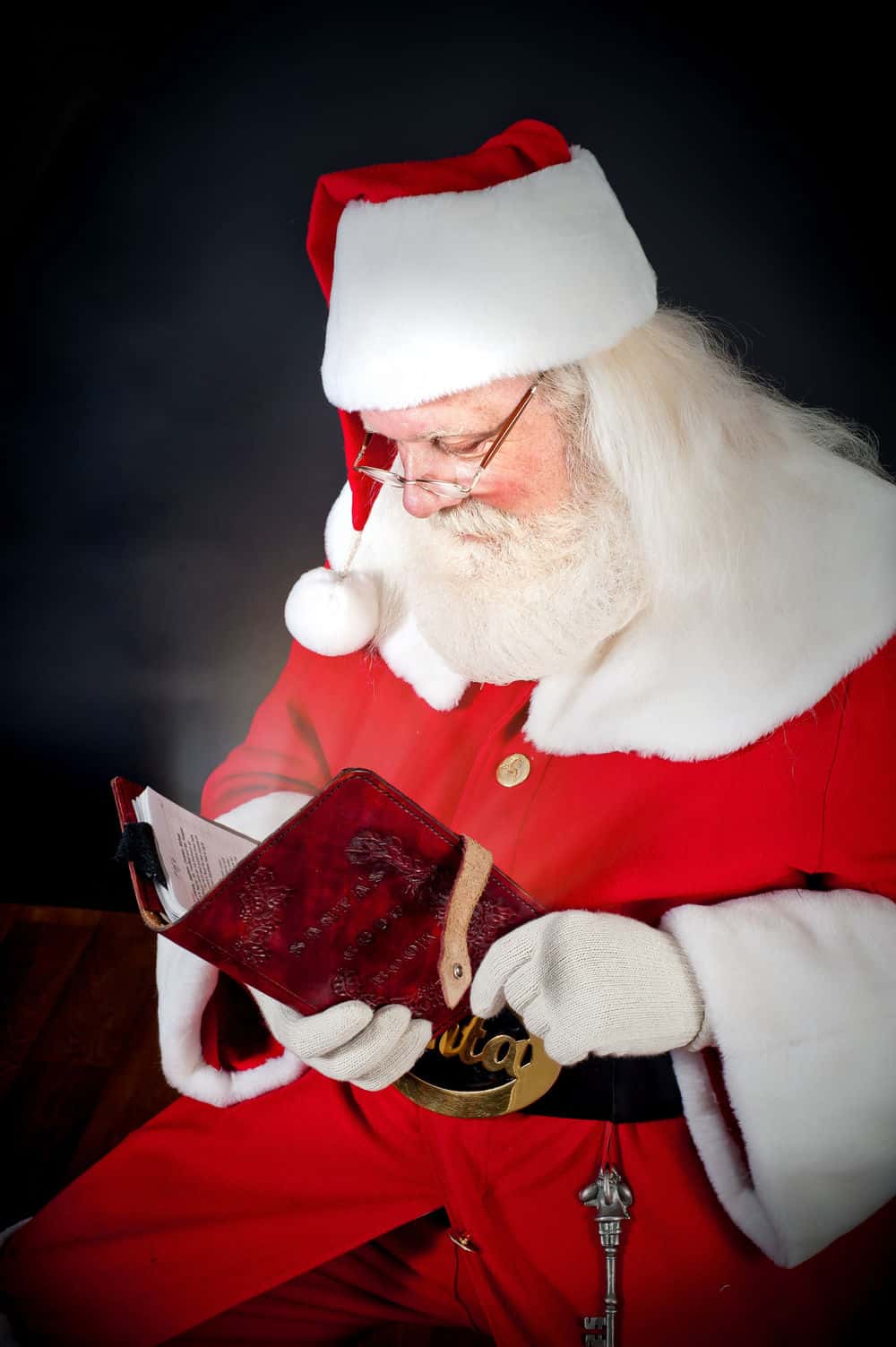 SANTA CHECKING HIS LIST !

SANTA THANKS EVERYONE WHO BOOKED WITH HIM FOR THE VIRTUAL 2020 SEASON! HE IS NOW BOOKING VISITS FOR THE 2021 SEASON!
Mrs. Claus available on request.

Elf available on request.
Santa George is a real bearded Santa with over 50 years experience and is available for all your functions including but not limited to Home Visits, Parades, Commercials, Private Functions, Corporate Functions, Photography Studios, Tree Lighting Ceremonies, Breakfast, Lunch or Dinner appearances and pictures with Santa, Afternoon cookies and milk with Santa, Fund Raisers or anywhere you need a real bearded Santa! Santa George also has a Workshop look and Santa outfits for a more casual look as well as a large cape to give you many different choices. Santa George also has a red double breasted business suit with red and black patent leather shoes and red fedora for a more adult formal look. Please have a look at the different looks available on the "Available Santa Looks" page. Santa can sing with the children and adults or read them a story such as "The Polar Express" or "The Night Before Christmas". Santa is available for the 2021 Season. New clients are required to send a 50% retainer fee with the remainder due at the end of visit.

Santa can also do virtual appearances.
HE LOOKS FORWARD TO MEETING VIRTUALLY WITH EVERYONE AND LOOKS FORWARD TO MAKING YOUR CHRISTMAS A MEMORABLE ONE.

SANTA WILL BE USING ZOOM FOR HIS VIRTUAL VISITS AND WILL SEND A LINK FOR YOU TO JOIN AND SEE SANTA AND HE WILL SEE YOU! SANTA CAN EVEN INVITE OTHERS INYOUR FAMILY TO WATCH THE VISIT AND HE CAN EVEN SEND A VIDEO OF THE VISIT AFTERWARD.WATCH THIS HOMEPAGE FOR A SAMPLE OF THE VISIT HE WILL PROVIDE!
PLEASE WATCH SANTA'S AVAILABILITY ON HIS CALENDAR PAGES FOR 2021
Santa had an extremely busy Virtual 2020 Season. Please call early for best dates available for 2021. He can be reached here at the Rhode Island Work Shop at - (401) 767-2876 or via Santa's Sleigh Phone at (401) 309-9540 He looks forward to hearing from you.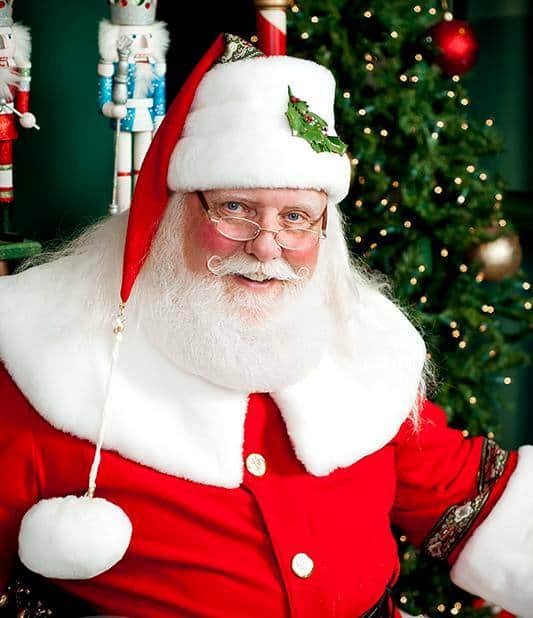 Santa in his chair !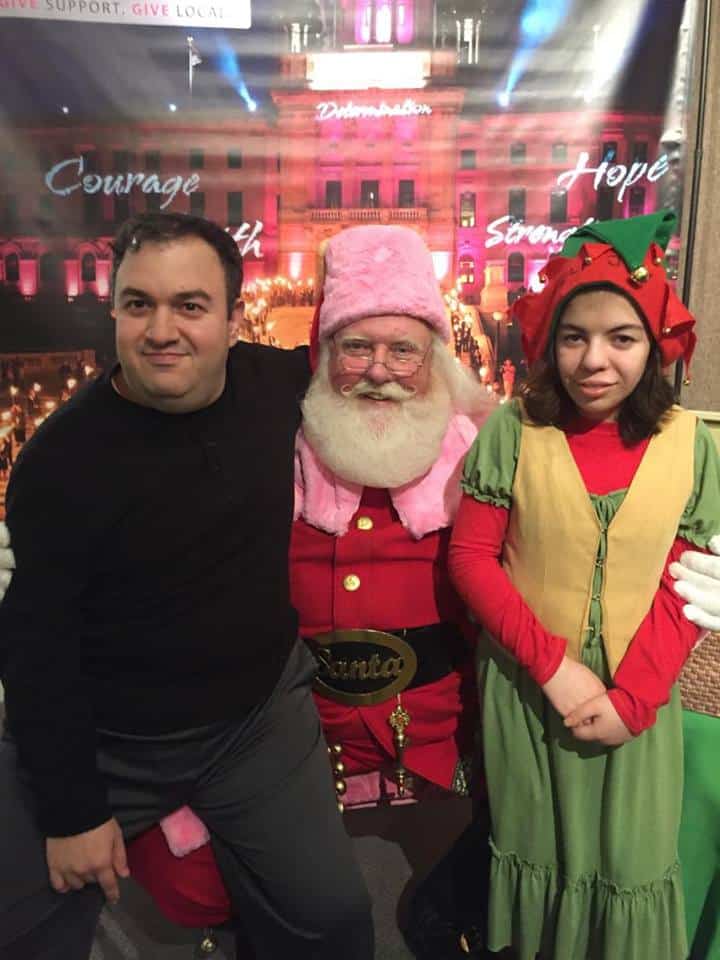 Ron & Elf Joy at Gloria Gemma Breast Cancer Research Survivor Party (pink fur for breast cancer)


Santa George has been performing as Santa for over 50 years for family and friends and has been a real bearded Santa for the last 21 years. Santa George is a member of Santa's Across the Globe, IBRBS, North East Santa's Across the Globe, Santa-America, The Santa Claus Registry MEMBER #3 and his beard is registered with the National Beard Registry #1322 & past member of the Amalgamated Order of Real Bearded Santas. A list of reference are available on request. Santa has National background check and is fully insured! Copies on request.
SANTA IS LOOKING FORWARD TO SERVING YOU IN THE 2021 SEASON!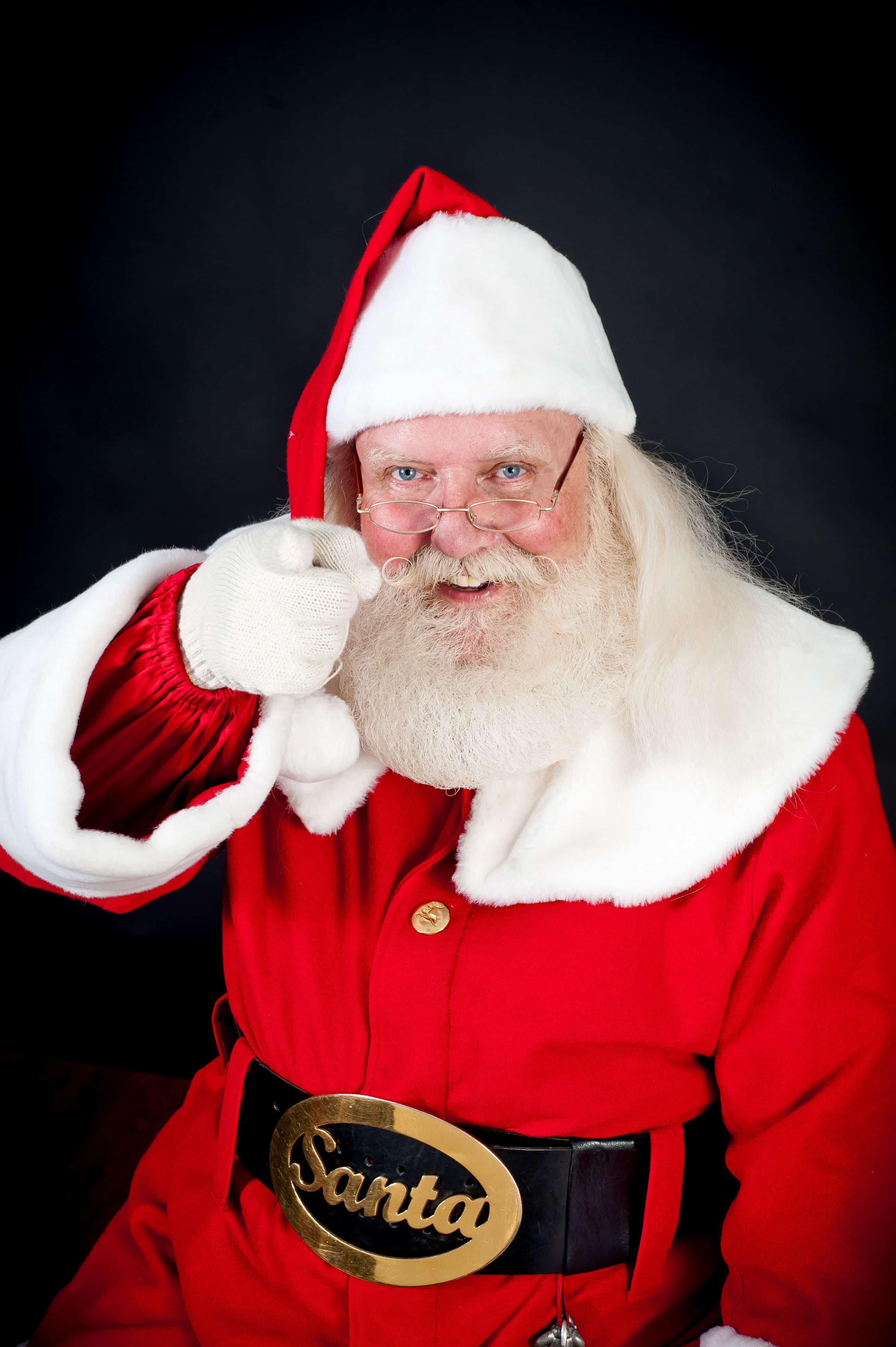 Don't forget that Santa is watching you!
He knows if you are bad or good,
So be good for goodness sake!
Santa George is proud to announce that he is the official Santa for the Visiting Nurses Association of Rhode Island Hospice Care.
Santa George is very proud to be the official Lead Santa Claus for the Blackstone Valley Tourism Council Polar Express.
Santa George is also proud to be Lead Santa at Bass Pro Shops Santa's Wonderland since it's inception in Foxborough, Massachusetts!
Santa George also considers himself very fortunate to be the Official Santa of Cardi's Furniture, Patriot's Place, Toys for Tots and the Official Santa of the Gloria Gemma Breast Cancer Foundation. Santa George was in the Gloria Gemma Calendar for the Month of December 2015 and also in the Providence and Worcester Railroad Calendar for December of 2015. Santa George was also on the full cover of Christmas Day 2014 edition of the Boston Herald.